Posted by Zone Rock on 31st Mar 2016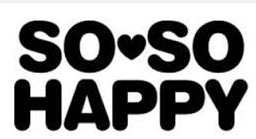 SoSo Happy : to add color and cheerfulness to your life !
Created in 2009, SoSo Happy is a colorful, unique clothing line for men and women who want to live their lives to the fullest. This rainbow-esque line encourages people to believe in themselves and to embrace their individuality. With carefully-chosen fabrics and a special attention to details, SoSo Happy clothing is inspired by art, music, and positivity. It offers a vast selection of women tops, hats, socks, pants, and accessories such as keychains and bags.
Check out our arrivals and discounts for SoSo Happy accessories and apparel. Shop online and get your goodies shipped everywhere in Quebec, Canada and United States.