Posted by Zone Rock on 31st Mar 2016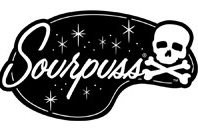 Sourpuss : a clothing line for tattooed ladies, punky pinups and little monsters!
Created in 2000, Sourpuss is an independant line, one-stop shop for clothing, accessories, and houseware for those of you who love to walk off the beaten path and show off their colors. Using only top-notch fabrics and giving a lot of attention to details, Sourpuss' designs are inspired by old school punk rock, vintage, kitsch oddities, retro monsters and so one ! Shop our selection of Sourpuss clothing for men and women, including skater dresses, tops, knitwear, and cardigans, swing dresses, pencil skirts and so on. Sourpuss also carries an adorable line for the little monsters that includes sneakers, onesies and hats. Last but not least, we also provide you with lovely houseware to fit your rockabilly decor like towels, shower curtains, pillows and even coffee cups.
Check out our arrivals and discounts for Sourpuss accessories and apparel. Shop online and get your goodies shipped everywhere in Quebec, Canada and United States.